National Disability Employment Awareness Month
October is National Disability Employment Awareness Month (NDEAM). The theme for the 2021 celebration of NDEAM is: "America's Recovery: powered by Inclusion".
Genesee Lake School specializes in treatment for students ages 7-21 who have been diagnosed with Neurodevelopmental Disorders. Parents of children with Neurodevelopmetal Disorders have heard of or unknowingly became victim of 'the cliff.' The cliff refers to the transitional period of time when a student with disabilities graduates high school and enters adult services. Similar to other adults, these students want to join the workforce. However, unfortunately, statistics have shown successful integrated employment among transition-age adults is very low. At Genesee Lake School we work to ensure that our students are prepared for this transition with the skills necessary to succeed in their chosen field.
Vocational Services Department
The Vocational Services Department at GLS works collaboratively with the Education Department to ensure transition and vocational services are being offered to students starting at age 14 and individualized for each student's needs. The ultimate goal in this collaborative approach is to achieve paid community employment. Vocational Services was developed and modeled after adult supported employment services so as to give students exposure to the expectations of adult services well before they leave school. The exposure makes for a successful and seamless transition from school to adult services, thereby avoiding 'the cliff.'
Community Employment
At GLS, students have opportunities to work in the community at a variety of locations. At community employment locations, students can learn how to advocate for themselves, ask for reasonable accommodations, and apply their acquired technical and soft skills in real life situations. One of the biggest benefits to the students working in the community is the meaningful and mutual relationship they have with their employers.
Mihayla
Former student, Mihayla, has worked with Greenfield School District at a local elementary school since the spring of 2019. She works three hours a day washing dishes, completing food preparation, and serving the students' lunches. Mihayla has gotten to experience all of the intrinsic benefits of having a job in the community; she is pictured in the school yearbook as an employee, is affectionately referred to as 'one of the kitchen ladies', and receives cards on her birthday and holidays from the students. Mihayla's mother reported one of the most essential factors the GLS vocational program offered to Mihayla was the ability to try a variety of jobs. This approach allowed Mihayla to realize her love for working in a kitchen atmosphere.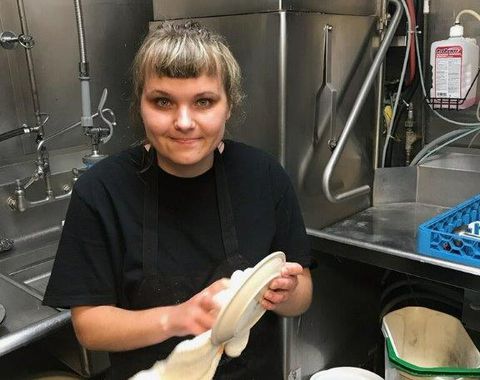 First of all, every student from GLS that comes to MOD, has a great attitude, and we are just as happy to see them as they are seeing us. They are as much a part of our Squad as any other employee here! They are always willing to do whatever is asked of them, with a smile! Our MOD store would not be the same without them, and we are thankful to have both their help and the support of GLS in making this world a better place through spreading MODness. We may make pizzas, but we do this to serve people and our communities!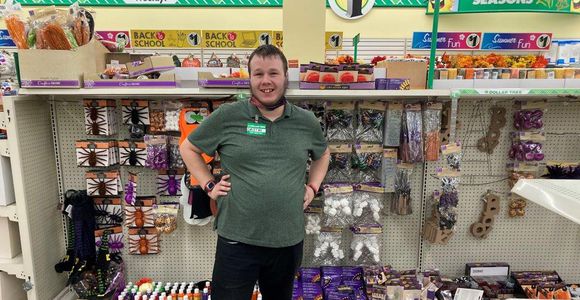 Christian
"I currently work second shift at Dollar Tree. I am also interested in getting a second job at a fish store by my group home. While at GLS, I learned to control my anger, use my coping skills, and learned work skills from the job coaches. First, I want to thank everyone for putting up with me and always being nice. I wasn't the easiest person to deal with, especially when I was angry. Also, for the Job Coaches – I thought you were hard on me until I got into the 'real world.' Thank you for giving me work skills."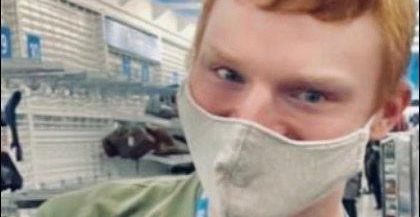 Michael
"I'm currently working at Ross Dress for Less as a Stock Associate and I also work at the Kane County Government Center in the Supervisor of Assessments where I do office filing, scanning, and data entry.
Treat people how you want to be treated. Try any jobs that are available for you to try because you never know what you may like or find out you are good at. Always try to stay positive and keep your head held high."
The students of GLS are absolutely amazing and we love working with them. Our collaboration with GLS has opened up our employees' eyes, both on the work floor and in the offices, as to what people with disabilities are capable of. The students of GLS are always ready to work and willing try something new when asked. The employees who work with the students have grown very close to them. We look forward to working with GLS in the future and love having new students join the team.
Casimir
"I am super proud to have kept a job at the Goldfish Swim School for 4 years. GLS let me embrace my identity of being a gay man and never let me feel ashamed. I am continuing to learn to set new goals for myself by learning to speak Japanese and drawing better."
For information about admission to Genesee Lake School please click here.
For general information about vocational services please contact us.